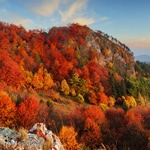 Vivid autumn leaves are one of the most inspiring and rewarding natural sights that New England offers. If you want to take a trip to the Northeast this year to catch sight of the leaves changing color, we have some key recommendations so that your trip is relaxing and enjoyable.

Go Early in the Season

Although the fall season technically ranges from September through December, making a visit to New England in September will likely bring the most brilliant display of leaves. September is historically when leaves are at the peak of their color.

Go in the Morning

Starting your day earlier is wise for several reasons. For starters, you'll encounter fewer people on the roads, which makes it easier to pull off and enjoy the sights. Dawn also has ideal lighting conditions.

Follow Your GPS

If your car has a GPS system, you should use it for directions so that you don't get lost, and you can also use your GPS to find helpful features along the way.