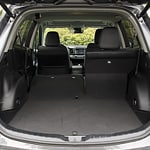 A crossover is an SUV that blends the best of a car and truck. Here are five reasons you should buy one:
1) The cargo space in crossovers has significantly increased over time, making it easier to transport goods for business or personal use.
2) Crossovers are safer than trucks because they have fewer blind spots when reversing, more oversized windows, side-impact beams, and other safety features not found on trucks.
3) Crossovers are more fuel-efficient than trucks which save money in the long run.
4) Unlike cars, crossovers can be used off-road without being damaged by rugged terrain - perfect for camping trips!
5) Crossovers are easy to maneuver and park, making it easier to commute in the city or go shopping.
The Nissan Rogue is one of the most popular crossovers for sale on the market today. It has a sleek design and intelligent technology that keep you safe and satisfied when driving:
-Collision warning with auto-braking
-Lane departure warning with lane keep assist
-Around view monitor (which shows you what is around your car on the screen).