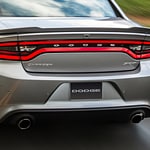 A very fast option

The Dodge Charger is a powerhouse of strength that includes many beneficial features that will keep you confident and expedient on the road with impressive results. This model features speed and performance like no other with an impressive engine and acceleration that goes above the limit and is the fastest mass produced sedan on the market.

Distinct exterior features

The exterior will turn heads and make you feel important on the road with distinctive features that are unmistakable. It has a very nice muscle car look to it with a stylish and sleek appeal that will grab the attention of others and give you a stylish presence on the road. It is the very definition of muscle with impressive curves with the flying buttress rear window and famous styling design!

Optimized interior

The interior features are just as impressive with both comfort and style that are held in the highest regard which results in an experience with continuity. Both the passengers and the driver are held in the highest regard equally here and the Laguna leather with stitched dash doors and console extends beyond the realm of excellence.