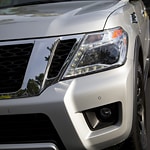 What can future Amherst area Nissan Armada owners look forward to with regard to this Nissan SUV's performance features? Much of the Nissan Armada SUV's excellent performance comes down to its powertrain and its off-road feature set.
When it comes to the Nissan Armada's rugged powertrain, its two most important components are the advanced 7-speed transmission and the aggressive V8 engine. Together, these Armada powertrain elements deliver incredible power, which you can confidently command as you maneuver your new Nissan crossover SUV along local highways.
In terms of the Nissan Armada's off-road and 4-wheel drive feature set, you will have at your disposal Active Brake Limited Slip, Hill Start Assist, Selectable Modes and the Intelligent 4×4 system, which features an efficient 2-speed transfer case. Virginia Select Auto's Nissan Armada buyers can capitalize on these features to tackle boulders, inclines and declines during their adventures.