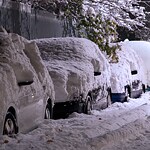 Winter poses a particular threat for drivers. The weather turns bad, and the roads get dangerous to drive on, but it is more than just that. There are other dangers such as the fact that windshield wipers can get frozen up or tires can be dangerous to even drive on.
Many people forget some of the basics such as the fact that they should be driving on winter tires rather than on the regular tires they are likely on now. It seems like a small thing, but it can help keep a person a lot safer out on the road.
Properly fueling the vehicle so that there is at least half a tank worth of fuel in it at any given time is another important thing to do. People sometimes forget that they could get stuck in the snow and the ice and end up without fuel to get out. That is a very dangerous potential situation that can be avoided.